If you are an opera lover, or opera-curious, I hope you are able to spend some time digging around the interwebs today, as there's a true plethora of material for you to consume: historic performances (here's one of my favorites), old chestnuts, new works, new takes on the aforementioned chestnuts. There are interviews with artists, teasers for upcoming productions, and amazing works created expressly for the digital platform.
And please forgive me for tooting our own horn, but we have a number of things to add to your viewing queue: you can start here.
When we realized that we wouldn't be able to field a conventional summer season, we turned to the brilliant work that our past artistic teams and company members had created. Our UNTRAPPED: Online series features standout performances of works that range from the emotional complexities of Mozart's Idomeneo to the poignancy and humor of Ullmann's The Emperor of Atlantis.*
In bringing singers this summer, however, we knew we needed to find a way to challenge them artistically while keeping them as safe as possible. We grabbed every camera and cable and microphone we could, and leaned into capturing shorter, smaller performances on video. The learning curve began with storyboarding and camera placement, worked through mic placement, audio engineering, and lighting for the camera, and finished with the hundreds of post-production hours. If we aggregate the three Filene scenes programs we produced – Love: Surrender, The Orpheus Project, and Into the Woods – we end up with 3 hours and twenty minutes of filmed content. The time it took to capture that content increased by tenfold: 31 hours and 35 minutes. Add in the set up, storyboarding, coaching, and staging time, and the number increases exponentially: 276 hours, 50 minutes.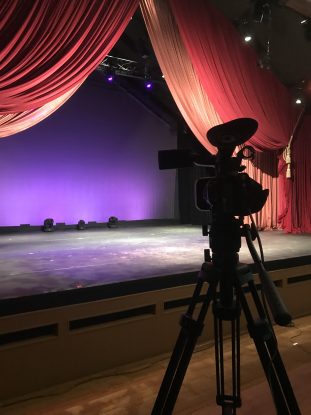 (That figure is not even counting the post-production time, which is roughly calculated at 1 hour per minute of footage… or an additional 200 hours.)
In the name of safety, we kept the personnel in the filming sessions limited to the bare essentials. Time periods were kept short and broken up by frequent internal breaks. Capture sessions were not necessarily linear, as scenes were broken up to facilitate changes in camera placement rather than intermissions. And, when the artists finished the day's work? There was a smattering of mutual applause among colleagues.
(You can see our work here, here, and here.)*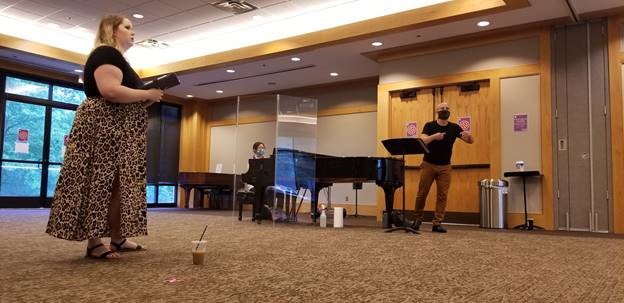 Through these collective artistic endeavors, we all learned and implemented a mountain of new information; I'm proud of the considerable work our team and artists did to synthesize a host of new experiences and skills. The exchange of ideas and energy that can catalyze a life-changing theatrical moment was pared back to its very essence this summer… and as we look forward in our planning for summer 2021, I am energized by the thought of facilitating that exchange, those conversations, the high standard of art for which we are known.
As you explore the many corners of the opera world that exist digitally on this International Opera Day, I hope that you find some pieces that capture your imagination, and performances that inspire you. I also hope that seeing those pieces digitally whets your appetite for the day when you can experience it in person – feel the energy in the room, marvel at the beauty and power of the voices, and revel in the shared experience. 
*As a note of housekeeping, all of the UNTRAPPED: Online content will only be available through the end of December, 2020.