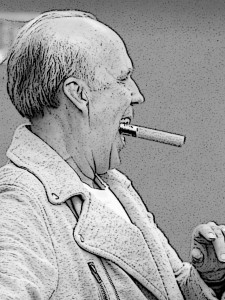 Signor Fazzobaldi is the Mayor of Santa Schifezza. (loosely translated: filthy disgusting town)
Lucky guy. Actually, it has turned into a pretty good gig. By the time we meet him, Fazzobaldi is pretty happy with the mix of bribery, graft, fraud and racketeering that makes up his life.
He must have taken this backwater town by storm as a young man, and undoubtedly, his rise to power was probably abetted by his voraciously ambitious wife. Fazzobaldi is bombastic, bellicose and bumbling. He is driven by an oversized ego and has enjoyed the role of small town despot for decades.
You have to admire his chutzpah. When faced with a looming inspection from the big bosses in Rome, all he can think of is that he's about to be promoted. Oh… and that he should commission someone to "write his autobiography."
His reign in the fictional Sicilian village of Santa Schifezza took place over 80 years ago. But just in case you think a corrupt, small-town mayor is a thing of historical fiction, you might want to check out this link.
"An inspector…
From the new regime
In Rome…
Visiting here.
Any day now…
There's no reason to panic,
Nothing to fear.
I am not a crook!
Why, my life is an open book.
[Suddenly panicking.]
I'm dead.
I'm dead.
This bastard will have my head.
So the books were a little cooked,
Some minor taxes overlooked,
That isn't fraud
As I'm a man of God!
I did it
For the good of our people,
For the good of our people,
No matter what they say.
For Santa Schifezza
We do it our way."
Mayor Fazzobaldi, via librettist Mark Campbell