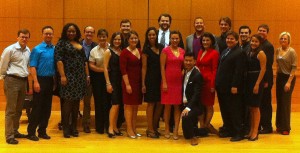 The Studio Artists are here, and all is right with the world.
Our Studio program is only in its 7th season, but I really can't remember a time without it. These generous and talented undergraduates and beginning graduate students amp up the already significant vitality and energy around here. (And that's saying something, for a company in which the average age of the principal artists is 27…)
This morning, they braved the initiation rite that is Death By Aria. One by one, they strutted their stuff for each other and for the artistic staff who run the program. To put this exercise in perspective: It's kind of like doing a high-stakes oral presentation for your entire department on the second day of your new job. First impression jitters coupled with performance anxiety doubled by jet lag and disorientation. Welcome to Wolf Trap!
They did more than survive; they conquered. Now the real work begins, as they jump into staging rehearsals of an opera that's already 10 days underway and dig into their scenes assignments. I look forward to getting to know them and sharing their work with you over the next few months.
This summer, our 16 Studio Artists represent 16 different universities, colleges and conservatories!
Boston Conservatory
California State University Long Beach
Florida State University
Juilliard School
Luther College
Mannes College
Michigan State University
Oberlin College
Rice University
University of California Los Angeles
University of Colorado
University of Houston
University of Missouri Kansas City
University of North Texas
Vanderbilt University
Yale University