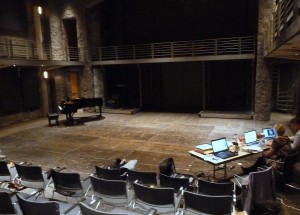 The next two months are audition season, and they are the nerdiest time of the year here at the blog, with plenty of aria trivia and industry advice. New content kicks off next week, but to get you started, a random sampling of some previous audition posts to help you get your head in the game:
This fall, you'll go through the important and specific motions of the audition game. Some of you will adapt and thrive, and others will never make peace with it. No matter. Because that's not the point.
The Audition Olympics has its compulsories, too.
Give yourself permission to choose the places where the light seeps in, and be ready to embrace uncertainty.
Oh, and fix your pianist's notebook. Or not, at your peril.
Be efficient and pleasant. Then sing.
This business of making a living in the arts is not for sissies.
"Practice is a means of inviting the perfection desired." Not demanding, forcing or coercing, but inviting. Do the work, then receive the guest.
I'm always eager to find a new way to organize my chaotic pre-audition season thoughts. This year's vehicle comes via Robert Pirsig. Zen and the Art of the Opera Audition starts next week.