And just like that, we're in Texas.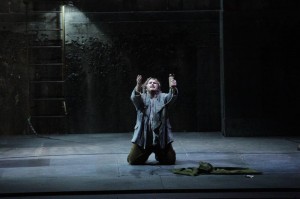 Off the plane, bags thrown in the hotel, and suddenly we're at the Wortham Center, bathing in the beautiful sound of the HGO Orchestra playing Beethoven.
It has been 20 years since I saw Fidelio, and this evening was even more compelling because of the WTOC alumni onstage – including Simon O'Neill (at left, WTOC 2003) as Florestan, Norman Reinhardt (WTOC 2005) as Jacquino, and Brittany Wheeler (Studio Artist 2008) as Marzelline.
And on our way out of the theatre, EM (former WTOC staffer and now big time muckety-muck at HGO) and I tried to coax a tune from the awesomely large and pink piano from the Barbiere set.