Today, a guest post from my partner in crime, Lee Anne Myslewski, the WTOC Administrative Director. (Although as you'll see below, that job title is barely sufficient…)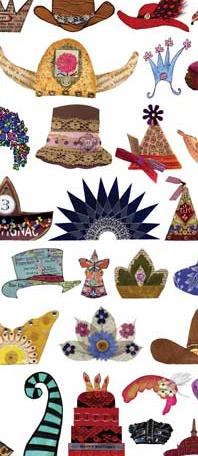 The Inspector, the opera that we started this whole crazy season with, has an aria about shoes.
(I like to call it my aria…we acolytes of Imelda treasure any artistic shoe reference we can grasp!)
However, the second verse of the aria segues quite neatly into hats…and that's squarely where we are. Because we're wearing several different hats every day….depending on the hour, the project, the person we're talking with.
Today, here's my personal log:
Accounts Payable Clerk: paid hotel invoices for a guest artist from the first opera of the season. Paid travel invoices for the Alumni Concert in August.
Radio Producer: weighed in on dates for the first recording session of Center Stage from Wolf Trap, our nationally-syndicated radio series.
Copywriter: Proofed brochures for the upcoming fall-winter-spring season.
Chamber Music Buyer: sent inquiries to artists for 2012-2013. Sent venue info (and repertoire requests) to 2011-2012 season chamber music artists.
Logistics Manager: tracked a set of wind parts to, well, the other Vienna. (thank the sweet Lord for UPS tracking numbers.) Connected with the sender to re** the shipment.
Conflict Resolution Specialist: Listened to a contractor's misunderstanding and tried my best to fix the problem. I think it's OK now.
Weapons Trafficker: Arranged for the pick-up of (prop) swords and knives for our upcoming production of Tales of Hoffmann and for the Studio combat classes.
Dealer: Of Sugary Goodness…I may have brought a danish into the office. But I admit nothing.
Tech Liaison: Talked to several camera/projection equipment companies…found a plan for an incoming programmer.
Supertitle Editor: I'm not smart enough to write them, but I can mush 'em together into a powerpoint. And I did…two hours of scene work!
Program Designer: First draft of the Studio scenes program is done. (It's not good, but it's done.)
Lackey: Popped checks into the mail. Proofed the schedule. Drove a guest artist to his hotel. Renewed memberships to Chamber Music America and Opera News.
Supervisor: Wrote my next-to-last intern mid-point evaluation.
Finance Officer: submitted 2012 budget.
(In the middle of the day we had an epic, thunderstorms-hail-poweroutage rain-like-we-shoulda-built-an-Ark storm. And I took the dog to the vet. So not really a full 12-hour day.)
(But still.)
There are so many things that the list can't do justice to, though… the amazing flexibility – and good will – of the artistic teams that are rehearsing simultaneously. The young singers who face the long rehearsal hours with good humor and focus. The costume folks who are trying to dress two casts of thousands, while working in a space that could, at best, hold an intimate dinner party. My colleagues who are always smiling…and those who let me blather to let off steam before the next task.
(Y'all know who you are.)
Studio Scenes on Sunday (invited guests and Wolf Trap donors)
Sweeney Todd a week from Friday.
Won't you join us?