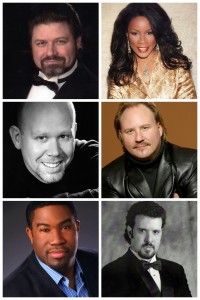 Every summer, the WTOC presents emerging professional singers, typically in their mid-late 20's and early 30's. There are many joys in this, but it means that we don't often traffic in what some of our alumni call "Big Boy/Big Girl" rep. (Yeah, I'm talking about you, Ms. Goerke, who ditched us to go sing freakin' Elektra in Spain…)

One of the things I'm salivating over as we approach our August 24 Alumni Concert is the chance to hear grown-up Trappers in full-blooded grand opera rep. Richard Paul Fink singing Tonio's Prologue ("Si può) from I pagliacci, Alan Held delivering Wotan's monologue in the Entrance to Valhalla from Das Rheingold, Denyce Graves performing "Voi lo sapete" from La cavalleria rusticana, Carl Tanner in Canio's "Vestia la giubba" (I pagliacci) and the iconic "Nessun dorma" (Turandot), Eric Owens singing King Phillip's "Ella giammai m'amó" (Don Carlo), Oren Gradus with Mefistofele's Serenade from Faust, and much much more, as they say.
We are going to rock the house.
Opera's Greatest Hits
Featuring 14 Alumni of the WTOC
Wednesday, August 24 at 8pm
Filene Center at Wolf Trap National Park for the Performing Arts