Last night, Ryan, Jason, Maggie & Corinne joined forces with the National Symphony Orchestra and the Washington Chorus for Beethoven's Ninth Symphony. It was a magical evening in the outdoors – one that reminded me of my love/hate (or, in this case, shall we say "Freude/Bösen") relationship with our beautiful outdoor venue.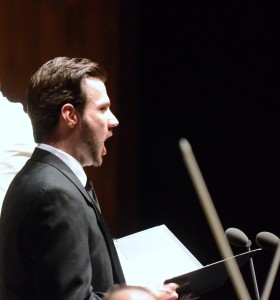 Die Freude
On nights such as this, it is a joyous thing. Almost 5,000 people, listening to Bruch and Beethoven under dramatic yet dry skies, in what felt like a small yet blessed respite from the recent grueling heat. Singers almost giddy from the chance to sing with this orchestra and bring this music to a wide audience – some of whom happily stumbled on this concert because they love coming to Wolf Trap on a Saturday night. (Corinne reports that a number of these new Beethoven fans followed her Twitter feed. You should too.)
Die Bösen
But the path to bringing opera to this space is fraught. With the demand for dark days in a theatre that is used to being active most nights of the summer, with costs that are almost unsupportable by a small company, with worry about a shrinking and changing audience (once numbering 10,000 over two nights, now shrunk to  half of that).
Over the last decade we've incrementally withdrawn from the amphitheatre in favor of our intimate indoor venue (The Barns). And while I don't miss confronting the challenges of producing opera at the Filene Center, a night like this makes me regret the willingness with which I have almost given up on it.
The Conclusion?
None. Just some new observations, and an urge to try once more to solve this puzzle.
Beethoven is a glimmering memory, and Stravinsky calls us back to The Barns. (And by the way, it's going to be beautiful. And funny. And heartbreaking.)