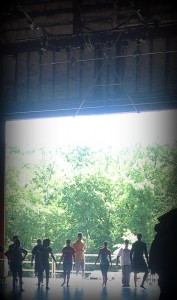 Most new jobs or internships move slowly at first, to give the newbie a chance to get his feed on the ground. But if you're reporting for work as a Wolf Trap Opera Studio Artist, it's a different story…
During their first 6 days at Wolf Trap, these 20-somethings have already:
Strutted their stuff in "Death by Aria" – kind of like delivering your professional elevator speech and defending your thesis simultaneously.
Taken dance class with choreographer Susan Shields. (Not "movement for singers," but real dance class. At left.)
Sang one-on-one and group rehearsals and been fitted for costumes for the first show.
Dug into the nitty gritty of Italian diction with language coach and native speaker Franca Gorraz.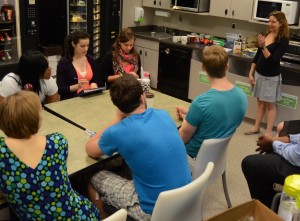 Learned about how to stay healthy while traveling (cooking real food in hotel rooms!) with nutrition expert and personal trainer Lisa Grimmer (at left).
Auditioned for representatives from 3 European opera companies.
All in a week's work.