It's a most wonderful time of the year. Artists and staff bring new energy into the building, the weather is still temperate enough to be tolerable, and season projects are all in their uncomplicated full-of-potential infancy. But May is delicious mostly because of delegation.
In the blink of an eye, a 2.5-member team is doubled then more than tripled…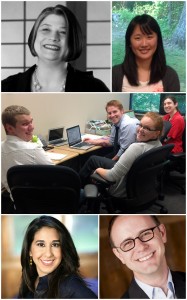 Artist bios and lobby slideshows are taken over by the Manager of Community Development…
Housing and transpo get handed over to the Company Manager…
The schedule database is kicked to the Administrative Intern…
Contact lists and rehearsal schedules are gifted to the stage management team…
Cut lists and orchestra bowing headaches go to the Head of Music staff…
I am so happily dizzy with delegation that I can barely speak.
Top: Cory Lippiello, Manager of Community Development & Jiwon Kang, Administrative Intern
Center: Giovanni Production Staff Jennifer Rimmer, Susan Li, Andrew Esposito & Sam Waters
Bottom: Roxanna Tehrani, Company Manager & Grant Loehnig, Head of Music Staff