If you're a WTO donor or frequent patron, you should soon receive a copy of this year's Roster Magazine in the mail. The digital version is now available here!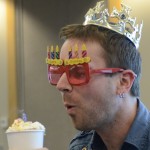 Today at the Trap, it's PSM Mike's birthday, which is always cause for celebration. (And in this case, a perfect excuse for root beer floats in the middle of a Friday afternoon.)
Studio Artists are furiously rehearsing their Ghosts of Versailles roles, the costume shop is doing continuous fittings, and Figaro cast members are sitting for interviews (soon to be compiled in a few short videos, coming at you next week.)
Tomorrow is a company day off, and all the Opera People will enjoy a leisurely Saturday. Have a wonderful weekend!