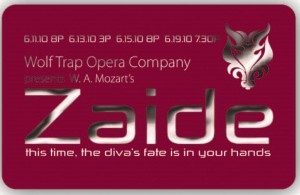 Google alerts are part of my professional lifeblood.  This month,there's one set to notify me daily of any news with the word "Zaide" in it.  This is what I have learned in the last few days:
"zaide" or "zayde" is Yiddish for Grandfather.
Over at "180 Days with Mozart and Me", Bill is working his way through the Philips Complete Mozart Edition recordings.  This weekend, he spent some time with Zaide and writes about it here.  He closes with "I don't really know why I liked Zaide. It just didn't sound like a typical Mozart opera. It felt more somehow. More heartfelt. Like real people (not actors) talking and singing. I know that may sound odd. But that's how it felt to me."
And, as we prepare to bring this rare Mozart opera to the stage, I learn that Opera Nova Scotia just mounted Zaide's Canadian stage premiere this past weekend.