After auditions yesterday afternoon we decided to try to hit the High Line. Obviously such a good idea that all of the tourists in the city shared it… I understand that the High Line is a lovely thing, but shoulder-to-shoulder on a summery Sunday is not the best way to experience it. (Rahree went running there at 7:30am, and she reports that it's lovely when it's empty.)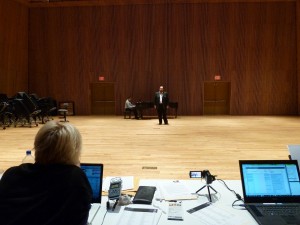 Two random audition observations on this audition tour Columbus Day (held in Cary Hall at the DiMenna Center; view from the audition table at left, with 2011 Filene Young Artist Eric Barry and pianist Michael Baitzer):
We Want You
Singers, do what you can to bring the strength and vividness of your own personality to your performances.  Try not to let the nerves push you to either extreme -completely closed off and impersonal or hyperdramatically overemotive. We've seen some of both lately. It's a scenario in which we can tell that the person with whom we chat when s/he walks in the room is interesting and nuanced, even in an exchange of a few sentences. Then that person opens his/her mouth to sing and becomes either overcautious or goes into a slight caricature of a histrionic opera singer. Don't be more interesting and genuine when you're not singing than you are when you perform.
What Not to Wear
We've been on the lookout for fashion victims, and we have been disappointed! I'm happy to report (and perhaps it's too early to be categorical about it…) that the attire so far this year has been stellar. Non-fussy, professional while not being stuffy. Ladies, we adore the variety of colors – Kelly green, deep coral, electric blue and more! Love it.
What's for Lunch
In what seems to be a growing series of entertaining menu items, an entry from today's lunch:

When we're done with the trip, I think we'll create a whole menu from these tempting choices.