These are some of the things that stayed with me after attending Dr. Alexandra Libby's See Lucretia presentation at McLean Project for the Arts last night…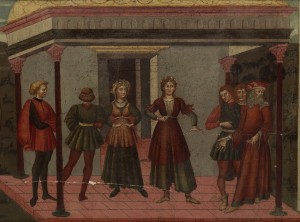 In the Italian Renaissance, many works of art depicting Lucretia were meant primarily for women. Sometimes painted on wedding chests, sometimes hanging in private bedrooms, they were an ultimate reminder of the importance of chastity in a patriarchal society.
Also in Italy, there were Lucretia paintings clearly intended for male viewers. They often combined the idea of the chaste heroine with a strong erotic sensuality. At times (as in the Cranach painting at left) Lucretia was even seen wearing clothing typical of a courtesan.
Meanwhile, further north in The Netherlands, Lucretia's death became primarily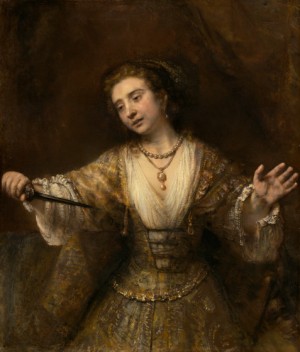 symbolic of political freedom as the people there chafed under Habsburg rule in the same way the Romans resented the Etruscans. There, she often wore a regal, sorrowful expression, emphasizing the human drama of a woman caught in a moral dilemma. Rembrandt's pupil wrote, "In the red ink of her blood she writes the definition of freedom."
See Lucretia was the first of four events in The Lucretia Project. Upcoming:
Read Lucretia
Saturday, June 11 at 5:30 pm
The Forum at The Shakespeare Theatre's Sidney Harman Hall
Hear Lucretia
Saturday, June 11 at 7:30 pm
With Taffety Punk at St. Stephen & the Incarnation Church
Consider Lucretia
Sunday, June 12, 2016 at 5:30 pm
Lecture Hall at the Center for Education at Wolf Trap