We brag a lot about the alumni of the WTOC, and justly so. We played our part in helping them become the interesting people and accomplished artists they are. But in addition to hitching our wagon to their various stars, we love the way the former Trapper community allows us to connect almost anywhere.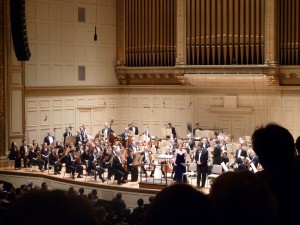 While we were sitting in the studio yesterday, we learned that Soundmirror was recording last night's performance of John Harbison's Symphony No. 5 and that Sasha Cooke was the featured mezzo soloist. Within an hour, our wonderful engineer colleagues had secured a couple of tickets for us, and I had made arrangements to catch up briefly with Sasha backstage at intermission.
On the way into Symphony Hall, we passed posters for upcoming concerts which included Sarah Coburn and Morris Robinson. And I sat down, opened the program book, and was reminded that the Harbison Symphony we'd come to hear was premiered by Kate Lindsey and Nathan Gunn.
Earlier in the day, we lauded our Soundmirror colleagues, who were nominated for Grammys for (among other things) Florentine Opera's recent recording of Elmer Gantry, featuring Keith Phares, Patricia Risley, and Heather Buck.
A single day, in a far-flung city, peppered with an abundance of riches, as these artists with whom we spent formative months in their young careers move on to leave their marks on every part of our industry. It's a wonderful thing.
(P.S. – Not a WTOC thing, but a Wolf Trap connection nonetheless: the soloist in last night's Beethoven 4th Piano Concerto with the BSO was Jonathan Biss, the first debut artist featured on our Discovery Series at The Barns.)