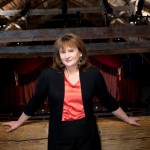 OK, I admit it. I've been cheating on you with some newer, sexier blogs. (Well actually, one blog and one podcast.)
But truth is, I miss you. Even though it's been fun pretending to be a fancy Huffington Post blogger and a smooth-talking iTunes podcaster, it's also been pretty exhausting. Those Huffington Post people expect insightful, witty, polished prose. And those podcast downloading people… well, I don't have any idea what they're looking for. But you? My loyal original blog readers? I can be myself with you. In that wear-your-ratty-sweatshirt-watch-bad-TV kind of way.
So I promise to get myself back to where I started. Here, where I began blogging in October 2004 – before most people in the opera business knew what it was and before anyone had the good sense to stop me.
The 2013 season audition tour is in the rear-view mirror, and we're trying to make sense of it all. We spent the autumn running around the country (literally and figuratively; we jogged in 7 cities…) looking for inspiration. Trying to choose a handful of young professional singers with whom we can spend next summer, and on whom we create our whole season. Most of you know this, but I'll repeat it: We do this backwards. Instead of looking for people to fill opera roles, we choose people then pick the operas they'll sing. And then we decide when, where, how, and with whom. All in about 6 weeks. When we're fried from running around the country.
But no matter. It's exciting and rewarding work. I can't tell you much about it until it's done because the pieces are so crazily interlocking that almost none of it is stable until everything's in place. And that'll take till late January. So till then, check back here for random observations, some operatic, some loosely-related. Oh, and if you're interested in those other people with whom I've been cheating on you, check out the two new tabs at the top of the blog.