(Yes, that was a geeky Sweeney reference, for those of you who are as nerdy as I.)
The Kennedy Center production of Follies that just swept through town on its way to Broadway took a few Wolf Trap casualties with it. Conductor James Moore was to have been here with us this week, prepping our Sweeney; and baritone Ron Raines (a Wolf Trap alumnus) was to sing in our upcoming Alumni Concert on August 24. The upcoming Broadway run of Follies, while good news for these gentlemen, presented us with a bit of a challenge.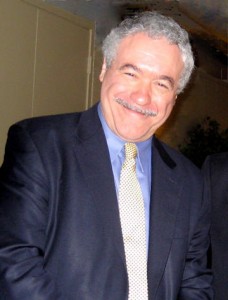 Fortunately, Sondheim expert, master orchestrator, and fabulous conductor Larry Blank swept in to save the day. He cleared his schedule on frighteningly short notice and flew to Virginia yesterday. (I didn't know when I watched the Tonys a few weeks ago that one of the nominees for Catch Me if You Can would end up on our doorstep momentarily!)  As of this writing, he has just taken a trip through the entire score with the cast, and we're organized and ready for a few weeks of staging rehearsals.
I love listening to these first sing-throughs. Seven months ago, in a haze of airports and audition spaces, we found these people and heard them sing these roles in our minds' eyes and ears. It's never really the same in reality – always different somehow, but almost always better than I imagined. As always, it's a privilege to play a part in these young artists' careers, and to witness them bringing something extraordinary to the Filene Center stage on July 22.