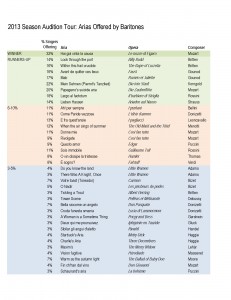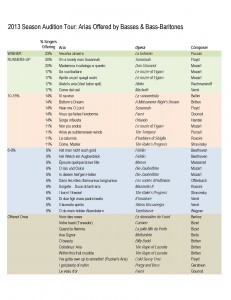 Yeah, I know. You low voices are always at the bottom of every list.  But I always save the best for last. Your aria frequency data is ready; click through here and here or click on the images at left and right.
Compared to last year, baritones have a few new entrants near the top of the list (although none come close to unseating the Count). "Avant de quitter ces lieux" and Papageno's "suicide" scene are a bit more popular this fall. Bel canto is still in evidence, although falling a bit down the list, with "Ah, per sempre" losing a little popularity.
When compared to last year's lists, there's more variance in the bass list than any other voice type. (Trying to keep us guessing, eh, guys?) Last fall, Blitch and Leporello tied for first place, but this time they've both been sent to runner-up status by Colline.  The Verdi aria of choice has moved away from "Il lacerato spirito" in favor of "Come dal diel." Blitch's second aria is pushed down the list, and Claggart's "O Beauty" has inched up. "Quand la flamme" has pushed aside Faust's Serenade as a French option, and "La calunnia" and "O Isis" aren't nearly as much in evidence this year.
That concludes the flurry data generated by the arias submitted by this year's audition applicants. As always, when the audition and casting activity subsides in a month or two, I'll try to add to all of these lists by indicating which arias were singers' first-choice offerings and which follow-up arias were requested by the panel.